Kiribati citizens living in Kiribati should contact Immigration Office, Bairiki Tarawa, telephone 75021342 or 75021368, and must apply in person.
Kiribati citizens living in the Line Islands should apply for their passports at the Immigration branch office, London Kiritimati in person
Kiribati citizens living outside Kiribati may download the application form, complete the form and send it over with all required documents to their relatives in Tarawa through email or express mail and Immigration will work on that through your relatives, especially with payment and document verification.
The Kiribati High Commission in Suva also accepts application forms and processes payments as well for I-Kiribati living in Fiji or nearby countries.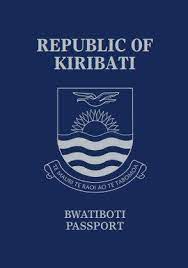 Passport Renewal/Extension
If your passport will expire soon you might need to renew it before traveling. You must check the entry requirements of the countries you are visiting before booking travel because there are countries like most EU countries that need at least 6 months left on your passport prior to entering.
How to renew a passport?
You must bring your old passport which is expiring, your current photo and signature, and proof of payment (receipt). Passport fees depend on the duration of passport processing.
Loss or Stolen Passport
By law, you must report the loss or theft of your passport to the Police and Immigration office as soon as possible. This will help prevent criminal misuse of the document and protect your identity. Your passport will be immediately and permanently canceled. It cannot be reinstated and must not be used for travel should you find it later. The penalty fee of $100 is applicable for lost/damaged passports.
How to report a loss or theft Passports
In Kiribati
If your passport is lost, you can report a loss or theft by going to the Police Station where you suspect your passport is being lost or theft at.
Overseas
If overseas, you should also report the incident to the police and ensure that you obtain a copy of the police report and send it over to the Immigration Office Headquarters.
Checklist for Lost/Stolen Passport
1 passport photo (current)
Police report
Signature
Proof of payment (receipts) (a)Penalty fee of $100. (b)Passport fee.
Checklist for Damaged Passport
Damaged passport if valid
1 passport photo
Signature
Proof of payment (receipts). (a)Penalty fee of $100 (b)Passport fee