President Tsai Ing-wen met the new ambassador to Taiwan from Kiribati, Tessie Lambourne, as she presented her credentials at the Presidential Office.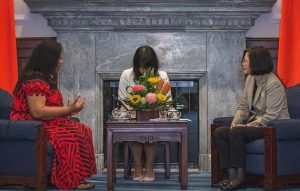 Taiwan and Kiribati have held diplomatic relations since 2003. President Tsai said there have been over 100 cooperation projects between the two sides in the past 15 years.
Tsai said Taiwan places great importance on its friendship with Kiribati. She congratulated Lambourne on her posting and said she hoped cooperation would grow even further with the new ambassador's assistance.